Reclaim Philadelphia
Jump to navigation
Jump to search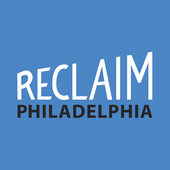 Reclaim Philadelphia was founded in May 2016 by former staff and volunteers with the Bernie Sanders campaign in Philadelphia. We launched our first campaign, protesting corporate power and lobbyists within the DNC host committee in June of 2016.
Reclaim started with a group of 35 members and one campaign and has grown into an organization with multiple issue based and electoral campaigns and task forces that are fueled by the engagement of over 300 dues paying members and hundreds of volunteers.[1]
Is an affiliate of Our Revolution.
Open Letter to the Biden Campaign on "Unprepared"
Open Letter to the Biden Campaign on "Unprepared" was released May 12 2020.
":Our demands: The country's greatest priority at this moment is to beat the COVID-19 crisis, and this requires embracing principles of antiracist solidarity and international cooperation. The Biden campaign can and should beat Trump and the GOP with a message centered on our real public health needs and the progressive values that are required to meet those needs. The "Unprepared" ad must be taken down, and all campaign messaging that fuels anti-Asian racism and China-bashing must end. We refuse to allow the Biden campaign to sacrifice our dignity in the name of political expediency."
Signatories included Reclaim Philadelphia
Leaders
Reclaim Philadelphia leaders 2019.
Organizers
Kendra Brooks victory
On Tuesday November 5 2019, Kendra Brooks, running on the Working Families Party ticket, won one of two at-large Council seats that Philadelphia's Home Rule Charter effectively reserves for non-Democrats. Both seats have been held by Republicans for almost 70 years. In January, she will become the first Council member from outside the two major parties in the 100 years since the body adopted a modern legislative structure.
Without the infrastructure of a major party, Brooks and her campaign manager, Arielle Klagsbrun, largely built their operation from scratch. But they could not have won without the efforts of a preexisting network of groups whose members knocked on thousands of doors, held fund-raisers, and posted constantly on social media for Brooks and her fellow Working Families Party candidate Nicolas O'Rourke, who came up short in his Council bid.
Tapping into the organizational strengths of grassroots groups was always part of the plan. Brooks sits on the steering committee of 215 People's Alliance, and O'Rourke is an organizer with POWER, an interfaith progressive organization. When dozens of groups came together last year to write the People's Platform for a Just Philadelphia — a manifesto of the city's left — Brooks and Klagsbrun led the effort.
Increasingly focused on electoral politics, the groups have worked together in recent years to score major victories, including those of District Attorney Larry Krasner, City Councilwoman Helen Gym, and several state representatives. But those candidates ran in Democratic primaries against party-backed opponents. The Working Families Party campaign for Council marked a new level of ambition and coordination for the local progressive movement — and the clearest demonstration yet of its power in city politics.
Most of 215 People's Alliance members are in Southwest Philadelphia and the western half of South Philadelphia — mirroring the turf led by Williams' political progeny. Reclaim Philadelphia is strongest in South Philadelphia and the river wards — the historically Irish American neighborhoods long controlled by the trades unions
Reclaim Philadelphia shares an office with 10 other progressive groups on the fifth floor of a building in Chinatown. They call it "the People's Headquarters."
Sitting in a room lined with campaign posters and voting precinct maps two weeks before the election, Amanda McIllmurray, Reclaim's political director, ran through past instances in which her group had worked with Brooks: Krasner's election, the fight to restore local control of Philadelphia schools, State Rep. Elizabeth Fiedler's campaign.
"She's just someone who has always been there and has always shown up," McIllmurray said.
The activist groups that carried the Working Families Party banner this year didn't just aid Brooks' campaign. In many ways, they were the campaign.
"This is our movement. It's bigger than Nicolas and Kendra," Brooks said at a rally in Northeast Philadelphia two weeks before the election. "There's so many organizations that have supported this campaign, and there's so many folks that are going to take us all the way."[4]
Netroots Nation
July 2019 Philadelphia hosted the Netroots Nation conference, a national gathering of progressives in pursuit of networking, collaboration, and inspiration from grassroots movements. The Reclaim Philadelphia crew made our presence known, participating in several sessions and shaking things up with a direct action, alongside allies Coalition to Abolish Death By Incarceration, that targeted Attorney General Josh Shapiro.
On Thursday morning, Rick Krajewski, our lead Mass Liberation Organizer, was on a panel alongside our allies (and officemates!), Bryan Mercer, Hannah Jane Sassaman, Arielle Klagsbrun, and Kendra Brooks, who are with Media Mobilizing Project, 215 People's Alliance, and the Our City Our Schools Coalition, to discuss how coalition organizing has taken Philly to the next level, and the unique challenges we've faced in doing it.[5]
Reclaim Philadelphia 2019 Council endorsements
Reclaim Philadelphia April 2 2019:
With Erika for Philly, Helen Gym, Citizens For Isaiah Thomas, Justin for Philly and Ethelind Baylor.
Courts of Common Pleas candidates
In 2019 Reclaim Philadelphia members have endorsed the following judicial candidates for Courts of Common Pleas: Wendi Barish, Nicola Serianni, Jennifer Schultz, Tiffany Palmer, Janine Momasso Cateria McCabe.[6]
Accomplishments
Transforming the Democratic Party in Philadelphia
We recruited and supported over 200 committee people city wide to transform the broken political machine into an active system that engages voters and supports movement candidates.
State Representative Endorsements
Reclaim Philadelphia endorsed four state representatives in this year's Democratic primary and they all won! We are continuing to seek out candidates to endorse to move the Democratic Party to live up to it's values.
We said "Prove it"! In a packed congressional race in the newly drawn fifth district Reclaim Philadelphia held a candidates forum that pushed those candidates to define their stances on racial, economic and gender justice. In a political landscape where everyone says they're progressive - we said 'prove it'.
Demanding a Democratic Sexual Harassment Policy
When PA Dem Party Chair Marcel Groen refused to create a sexual harassment policy for the Pennsylvania Democratic Party - we called his office and demanded it. After publicly pushing back against activists calling for the policy, he resigned!
Accountability in the Philly DA's office
Reclaim Philadelphia's Mass Liberation Coalition is a core member of the Coalition for a Just District Attorney - co-governing with Krasner to support his work and holding him accountable by bringing the movement into the DA's office through regular meetings.
Proud Member of Our City Our Schools
Reclaim philadelphia has been a member of the Our City Our Schools coalition for almost two years - successfully working to dismantle the School Reform Commission and return our schools to local control.
1st to endorse Larry Krasner for DA
Reclaim Philadelphia was the first grassroots organization to endorse Larry Krasner for DA and our members knocked thousands of doors in his epic primary campaign.
Successfully lobbied city council to divest Wells Fargo
Reclaim Philadelphia was part of a citywide coalition that successfully lobbied city council to divest $2 Billion dollars from Wells Fargo bank because of their racist lending practices, investment in dirty energy and funding of privatized prisons.
October 2016 successfully lobbied City Council to oppose the Trans Pacific Partnership
Reclaim Philadelphia successfully lobbied city council to pass a resolution opposing the trans pacific partnership, citing its anti-worker, pro-corporate stances. [7]
Helen Gym connection
Reclaim Philadelphia November 6 2018:
Happy to have Councilmember Helen Gym out here canvassing with #reclaimphiladelphia! We're out here fighting together for a future that works for us all!
Reclaim Philadelphia 2018 endorsements
Reclaim Philadelphia November 7 2018:
Congratulations to (from Left to Right) Joe Hohenstien, Danielle Friel-Otten, Chris Rabb, Elizabeth Fiedler and James Roebuck, Jr.!
We are also extremely proud of our other endorsed candidates who fought incredibly tough races. We didn't get the results we wanted but there is a progressive momentum from these races that cannot be undone! — with Joe Hohenstein for State Representative, Danielle Friel Otten for PA District 155, Elizabeth Fiedler, Chris Rabb for State Representative and James Roebuck, Jr.
History
Nikil Saval is opening up to dozens of people about one of the most harrowing experiences of his family's life.
He's at a city rec center, where the left-wing group Reclaim Philadelphia is meeting, on a muggy June night. Technically, the 35-year-old literary magazine editor is speaking about the dearth of affordable housing. But instead of simply rattling off wonky statistics, he's talking about the fact that his parents were forced to leave the country after costs skyrocketed in their Los Angeles neighborhood.
"They sold their house and moved back to India," Saval said, "abandoning their 30-year-long project to make a permanent life in the United States."
Through the evening, young leader after young leader of Reclaim Philadelphia shares the experiences that have fueled their political activism. A man tells the crowd his mother was arrested on Christmas Eve for driving a car involved in a robbery, and why that inspires his fight for criminal justice reform. A woman talks about being raped in college, and how that powers her work against sexual violence.
It's gritty, emotional, it speaks to the almost surprisingly vulnerable — and it's working.
Reclaim Philadelphia has been a major force behind the left wing's biggest victories in the city in recent years. Larry Krasner, the progressive district attorney, said the organization played a "key role" in his 2017 victory by harnessing "populist and grassroots energy." In the spring, Reclaim's members provided critical support to Democrats Elizabeth Fiedler and Joe Hohenstein, who both won primaries for the state legislature against candidates backed by the city's powerful electricians union.
Also, Fiedler's husband, Reclaim member Adams Rackes, was elected last month to lead a ward long run by the Democratic establishment. So was Saval, a co-founder of the group.
"They have a track record of almost two years of winning, and the places they've won have been strongholds of traditional machine operations," said political consultant Mustafa Rashed. "At this point, you'd have to classify it as an insurgency. They're a force to be considered in any election moving forward."
In a sign of how quickly politics has changed after President Trump's campaign, Democratic power players now seem to be kissing Reclaim Philadelphia's ring. City Councilwoman Helen Gym and Deputy Mayor Rich Lazer attended its two-year anniversary party in May at the Boot & Saddle Bar, and state representative candidate Mike Doyle went to the June meeting.
But the lion's share of the group's electoral successes have occurred in gentrifying neighborhoods full of new, young voters. Most of its members are also white, while the city is majority-minority. Can it prevail among a larger swath of the electorate?
"It is yet to be seen whether it can translate to the city as a whole," said Rashed, adding that if the organization began making gains in places like North Philly's 181st District, a largely black, low-income area, "that would impress me."
Reclaim's leaders argue that they've won elections largely because their progressive message is resonating in the Trump era.
Members talk about pursuing "a political revolution in Philadelphia" and the "radical redistribution of wealth and power from corporations and billionaires." They support policies such as Medicare-for-All, free college, and a $15 minimum wage.
"People are struggling, and we are speaking directly to that," said Lev Hirschhorn, another co-founder.
But the group's honchos also attribute their success to their highly personal way of organizing: They don't just talk to each other at meetings about their experiences with income inequality, sexism, and racism. They also speak to voters about injustices they've lived through — and encourage them to open up, too.
"It's shockingly effective," said Hirschhorn. "But it's not as revolutionary as it sounds. It's only revolutionary in the sense that the Democratic Party isn't doing it."
It's known as "deep canvassing," and this is what it looks like on the campaign trail: Fiedler and her then-campaign manager, Amanda McIllmurray, who is a co-founder of Reclaim, knocked on a 20-year-old voter's door during the primary. They asked him: What are the issues that matter most to you? What are you struggling with right now?
"He started to cry," said McIllmurray. "He said, 'Planned Parenthood is going to be defunded and I rely on that. My girlfriend just had an abortion a few days ago, and if I didn't have Planned Parenthood, I would be forced to be a father when I can't even pay my own bills.' "
Fiedler then promised the voter she'd support the abortion rights group, she said.
The numbers argue that this strategy is working. In the 2017 district attorney's race, Reclaim said that 64 percent of 18- to 35-year-olds that it and related organizations canvassed came out to vote, compared to just 29 percent of those who didn't have contact with the group.
In white, working-class voting divisions where Reclaim and the other associations canvassed, Krasner won 48 percent of the vote on average, the group said; in areas where it didn't, 20 percent.
Fiedler, a former WHYY reporter, said Reclaim "helped me refine my platform," "build relationships with labor unions," and "gain volunteers." Hohenstein, an immigration attorney whose field director in the primary was a founding member of the group, said "Reclaim always seeks to listen as much as it seeks to speak out, and that was one real important feature for my race" in the River Wards' 177th District.
Along with those two candidates, the organization endorsed State Rep. Chris Rabb, a Northwest Philly Democrat who secured his party's nomination this spring against a machine-backed candidate, as well as longtime incumbent State Rep. James Roebuck, Jr..
Reclaim Philadelphia's fiscal sponsor is the liberal group Keystone Progress' 501(c)(4). Often called "dark-money" nonprofits, 501(c)(4)s typically aren't required by law to disclose their donors. Reclaim's leaders said it lists their contributors on their website: In 2017, the organization said it received almost $36,000 from individuals' membership dues and $70,000 in grant funding from the institute People's Action.
Reclaim Philadelphia might be on a winning streak, but it was born in the wake of a major loss. After Bernie Sanders struck out in his 2016 bid for president, heartbroken ex-staffers and volunteers got together to figure out what to do next.
"We said, we built something really great here, and we don't want to see it die out," said McIllmurray.
The left-wingers began by staging protests around the Democratic National Convention, railing against the establishment's "moneyed interests."
Today, Reclaim Philadelphia has about 350 dues-paying members, plus an extra few hundred or so who participate regularly, McIllmurray said. It is officially a chapter of Our Revolution, the national political organization formed out of Sanders' campaign.
The group has also won admiration from some of its former foes. "Reclaim is just checking the oil under our hoods," said John Dougherty, leader of the city's electricians union. "I respect what they're doing."
After such a big couple years, what's next?
Rick Krajewski, a criminal justice organizer for Reclaim, said the group is about to launch a program to help support families of prisoners. Members are also thinking about how they can use 2019 — when Mayor Kenney and Council members are up for reelection — "as a way to really make a progressive push in Philadelphia," he said.
Krajewski said the group does have an internal issue: It needs to diversify. At the June meeting, one member told attendants that the room was too white.
"It's absolutely a problem," said Krajewski. "Reclaim leadership is very clear that we need a multi-class, multi-racial movement if we want to create change. … We need to be talking about racial justice, economic justice, education justice, and we need to talk about it in ways that people directly relate to."
Observers will likewise be watching to see whether Reclaim Philadelphia can expand its power beyond changing neighborhoods in South Philly and the River Wards.
Louis Agre, a longtime ward leader, said Reclaim's economic message can resonate with more traditional Democrats: "They believe in fair taxation, jobs for young people, and a lot of the things that Reclaim believes in. … They're hopefully the future of the party." But the organization may find it more challenging to win over those voters on "some of the social issues," he said.
Reclaim Philadelphia's leaders and endorsed candidates said they aren't taking anything for granted.
"Someone in the political establishment suggested that my victory was a fluke, a onetime thing," said Fiedler. "I do not believe that is true. But I would say that it is up to all of us and our neighbors to decide what happens next."[8]
Krasner team
LadenPele IL May 17, 2017:
Last night, as the results for Larry Krasner were coming in and it was becoming clear that we had won, the community coalition gathered towards the middle of the election party room.
Together, 215 People's Alliance, Reclaim Philadelphia, Pennsylvania Student Power Network, B.L.O.C. Party, and Neighborhood Networks knocked over 60,000 doors to talk to voters about Larry Krasner for DA and ending ending mass incarceration in Philadelphia.
It's a beautiful beautiful thing when a coalition can come together to try and do something big, like really big, and win like this.
I can't stop smiling about it.
I'm so so grateful to have been a part of this team even if only for the last couple weeks of the campaign. I learned so much from everyone involved and know that this is just the beginning of something really exciting in the city of Philadelphia
Huge thanks James Cersonsky for getting me involved and for all the work you did supporting this campaign along with the million other things you do for students all over the state.
Shout out to Lev Hirschhorn, Amanda Almanac, Nicolas Pastore, Ociele Hawkins, Arielle Klagsbrun, Bryan Mercer, Meghna Chandra and everyone from the coalition who poured their hearts into this campaign. I really learned so much from y'all and am excited to see what comes next.
And finally, to the best student team ever
Pennsylvania Student Power Network. Y'all are a part of history now. We knocked doors day after day for two weeks in Powelton Village and throughout the 24th ward. It was surreal when we reported back on election day, and most people we had talked to had already voted for Krasner or were planning on it. The commitment, passion, and hard work this team put in deserves more praise than I can muster with words. Amazing job Zaire Best, Avy Srinivasan, Tess Kerins, Jaid Munczinski, Shahmar Beasley, Nicky Dulepski, Becky Cave, Eli Cummin, and the whole team!
Now who are we going to elect next? I guess you'll just have to wait and see. 😉
I couldn't be more excited. — with Nicky Dulepski, Jaid Munczinski, Arielle Klagsbrun, Amanda McIllmurray, Ociele Hawkins, Lev Hirschhorn, Meghna Chandra, Andrea Putnam and Nicolas Pastore.
Revolutionaries
Kelly Morton July 6 2016 ·
Great protest today with the lovely revolutionaries of Reclaim Philadelphia!
— with Lev Hirschhorn and Xelba Gutierrez.
References