Deepak Bhargava
From KeyWiki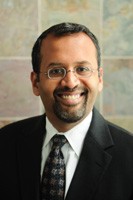 Deepak Bhargava is executive director of the Center for Community Change. He was born in Mysore, India, grew up in New York City. Bhargava has developed national grassroots coalitions on issue of public housing and transportation, resulting in significant federal policy changes.
Early life
Born in Bangalore, India, Deepak Bhargava immigrated to the United States when he was a child. He grew up in New York City and graduated summa cum laude from Harvard College. He lives in Washington, D.C. with his partner Harry Hanbury, a documentary filmmaker[1].
National Campaign for Jobs and Income Support
In 2002, Deepak Bhargava was the Director of the National Campaign for Jobs and Income Support. As such, he wrote a column for Democratic Socialists of America's Democratic Left, Summer 2002 "TANF Wars: The Grassroots Fight Back".[2]
ACORN
Prior to joining the Center for Community Change, Deepak Bhargava was the Legislative Director at ACORN, where he gained "broad experience in community reinvestment and housing finance issues[3]."
Center for Community Change
Deepak Bhargava is Executive Director of the Center for Community Change, a national nonprofit organization whose mission is to "develop the power and capacity of low-income people, especially low-income people of color, to change the policies and institutions that affect their lives."
During his tenure as Executive Director, Mr. Bhargava has sharpened the Center's focus on grassroots community organizing as the "central strategy for social justice and on public policy change as the key lever to improve poor people's lives".
He conceived and led the Center's work on immigration reform, which has resulted in the creation of the Fair Immigration Reform Movement (FIRM), a "leading grassroots network pressing for changes in the country's immigration laws".
He has spearheaded the creation of innovative new projects like Generation Change, a program that recruits, trains and places the next generation of community organizers, and the Community Voting Project, which brings large numbers of low-income voters into the electoral process.
Mr. Bhargava has also overseen a dramatic internal transformation of the organization over the past years, resulting in a younger, more diverse board and staff, a new physical home at 1536 U Street, and greater focus of the organization's work on strengthening and aligning community organizations towards policy change.
Mr. Bhargava has provided intellectual leadership on a variety of issues including the future of the progressive movement in the United States, poverty, racial justice, immigration reform, community organizing, and economic justice.
Prior to his appointment as Executive Director of the Center in 2002, Mr. Bhargava served as the Center's Director of Public Policy. He also directed the National Campaign for Jobs and Income Support...
...a coalition of grassroots groups established in 2000 to give low-income people a voice in the reauthorization of the federal welfare law and other areas critical to poor people. He has run numerous national campaigns that have resulted in significant improvements in the lives of low-income families.[4]
Writing
Deepak Bhargava has written on "progressive" issues for a range of publications including The New York Times, The Washington Post, The Nation, and The American Prospect. His "groundbreaking article" co-authored with 1980s Democratic Socialists of America member Jean Hardisty, "Wrong About the Right," influenced how many progressives think about the "strategies necessary to achieve lasting social change". Mr. Bhargava has testified before Congress on over 20 occasions[5].
DSA connection
On September 20-22 2002 Frances Fox Piven, Deepak Bhargava and Holly Sklar were billedas keynote speakers at "Confronting the Low-Wage Economy" at the First Congregational Church-Washington, DC, organized by Democratic Socialists of America[6].
This conference will kick off DSA's Low Wage Justice Project, which is designed to bring the human consequences of the low wage economy to the attention of the American people.
In his speech Deepak Bhargava refered favourably to the work of DSA founder Michael Harrington and his book The Other America[7].
So I do want to say that I enter this new period with a tremendous amount of optimism. Before nine-eleven we saw larger numbers mobilized in the streets on a whole range of issues, immigration, living wages than we'd seen in a long, long time. There is no question that nine-eleven has taken the wind to some degree out of those sails, but I think both the demographic, the organizational, the economic realities underneath that momentum at the local level are still present, and it's up to our imagination and our will to rekindle it over the next couple of years. But I think we can make great strides on this anniversary of Michael Harrington's The Other America in doing something serious about it. So thanks.
Soros connection
On November 29, 2006 Deepak Bhargava participated in a roundtable discussion at George Soros' Open Society Institute New York entitled "How Do Progressives Connect Ideas to Action?"
Individuals and organizations with similarly progressive goals often dilute their power by working alone or even working at cross-purposes. As Americans who are politically left of center move forward, questions of infrastructure, communication, and collaboration are particularly important.
Participants included several key leaders of the "progressive" movement[8];
National Capital Immigration Coalition rally
September 7, 2006, the National Capital Immigration Coalition held a rally on the National Mall. The protest was billed by immigration rights groups as a post-Labor Day demonstration to show Congress that undocumented workers still wanted an immigration reform bill that would allow them to work in the country legally. Turnout for the march was lower than expected with several organizers attributing low numbers of attendees to the fact that in the four months since the first marches, competing immigration bills had stalled in the House and the Senate.
Speakers were Johari Abdul-Malik Chairman Coordinating Council of Muslim Organizations, Deepak Bhargava Director Center for Community Change, Macrina Cardenas National Coordinator Mexico Solidarity Network, Jaime Contreras Chair National Capital Immigration Coalition, Francisco Gonzalez Valer Auxiliary Bishop Roman Catholic Church-Archdiocese of Washington, DC Bruce S. Gordon President and CEO NAACP, Luis Gutiérrez U.S. Representative [D] Illinois, Chung-Wha Hong Executive Director New York Immigration Coalition, Jose Hoyos Priest Roman Catholic Church-Arlington, VA, Sheila Jackson Lee U.S. Representative [D] Texas, Abdul Kamus Executive Director African Resource Center, Edward Kennedy U.S. Senator [D] Massachusetts, Carlos Lopez Laborer, Timothy McDonald Chairman African-American Ministers in Action, Eliseo Medina Executive Vice President Service Employees International Union, Janet Murguia President and CEO National Council of La Raza, Miguel Rivera President National Coalition of Latino Clergy, Rosa Rosales National President League of United Latin American Citizens, Gustavo Torres Executive Director CASA de Maryland, John Wilhelm President UNITE HERE->Hospitality Industry.[9]
Affiliated to UFPJ
Assof July 17, 2007[10]. Deepak Bhargava, Center for Community Change was affiliated with United for Peace and Justice.
National Leading From the Inside Out Alum
Deepak Bhargava, Center for Community Change, was a 2007 Rockwood Leadership Institute National Leading From the Inside Out Alum.[11]
Board service
Deepak Bhargava currently serves on the boards of the Discount Foundation, the Center for Immigrant Democracy, the League of Education Voters, The Nation editorial board, the National Advisory Board for the Open Society Institute, and Democracia Ahora[12], the Center on Law and Social Policy, the Applied Research Center, the Center for Policy Alternatives and the Poverty and Race Research and Action Center. He has previously served on the board of the National Neighborhood Coalition[13].
The Nation
Bhargava on Obama's "poverty agenda"
In 2009, the Editorial board of The Nation included Deepak Bhargava, Norman Birnbaum, Barbara Ehrenreich, Richard Falk, Frances FitzGerald, Eric Foner, Philip Green, Lani Guinier, Tom Hayden, Tony Kushner, Elinor Langer, Deborah Meier, Toni Morrison, Walter Mosley, Victor Navasky, Pedro Antonio Noguera, Richard Parker, Michael Pertschuk, Elizabeth Pochoda, Marcus Raskin, Kristina Rizga, Andrea Batista Schlesinger, David Weir and Roger Wilkins[14].
At right is a video of Deepak Bhargava speaking at a The Nation forum in April 2009, on the prospects for "progressive" gains under Obama's "stealth agenda".
Social Policy
As at Jan. 29, 2010 the Social Policy Organizers' Forum Board included:[15]
Deepak Bhargava, John Calkins, Tho Thi Do, Mary Gonzales, Ken Johnson, Michael Kieschnick, Drummond Pike, Mark Splain, Andy Stern, Pat Sweeney, Mary Rowles, John Hoyt, Gustavo Torres.
"Progressives in an Obama world"
On February 26 2009, Mike Lux, Miles Rapoport of Demos, Deepak Bhargava and Gloria Totten of Progressive Majority spoke at the Center for Community Change in New York at a forum entitled "Progressives in an Obama World: The Role of the Progressive Movement in a Democratically Controlled Washington".
The forum blurb identified Obama as a "progressive" and went on to say;
Since the 2004 election, the progressive movement has built a powerful infrastructure of think tanks, media outlets and advocacy organizations. Frustrated by the conservative ascendancy and the dominance of conservative ideas, individuals and institutions have put forward new paradigms for government and promoted a bold vision for the future.
But now a progressive holds the highest office in the land. As the movement struggles to define its role in the Obama era, important questions remain unanswered: What is the role of such organizations in Washington and how can they best create political space for Obama to act? On what issues should the movement compromise and on which take strong stands? How can progressives build consensus to make their efforts more effective?
The panel will feature progressive leaders Deepak Bhargava, Miles Rapoport and Mike Lux; the speakers will draw on two new books, 'Thinking Big: Progressive Ideas for a New Era,' and The Progressive Revolution: How the Best in America Came to Be, as they discuss what progressives can do to create momentum for greater boldness at a time when opportunities and challenges abound.
"Advancing change in the age of Obama"
Advancing change in the age of Obama
At right is another Bhargava speech from February 2009, given to the Liberty Hill foundation "Advancing Change in the Age of Obama".
Welcoming Obama
On Wednesday, November 05, 2008 Deepak Bhargava and the Center for Community Change issued a statement on the new President-elect[16];
Community Organizers Welcome One of Their Own to the White House
Community organizers across the country congratulate the historic victory of one of our own and herald the role community organizing played in revitalizing participation in our democratic process.
"Community organizing helped mobilize voters like never before with grassroots organizations engaging in electoral politics. Sen. Obama's own campaign was modeled on the tools of organizing, building the national groundswell that got him to this moment.
"Election Day is just the beginning. Community organizing will continue to play an important role in keeping an expectant and motivated electorate working together with the new Administration to find solutions for our shared problems. Together we will strive to realize the dream we voted for – an America that works for all of us."
On December 4, thousands of grassroots leaders will host Realizing the Promise: A forum on Community, Faith and Democracy to lay out a strategy to work with President-elect Obama and the new Congress on the people's agenda for change.
The Organizers' Forum
As at Jan 28, 2010 Deepak Bhargava was on the Board of Directors of The Organizers' Forum, a group with the mission of strengthening grassroots organizations by increasing capacity and stability of their democratic structures, to link organizing networks, and to improve on the skills and strategies employed by both community and labor organizers.[17]
America's Future Now!
Deepak Bhargava was one of the 148 speakers who spoke at the 2010 America's Future Now Conference.[18]
Take Back the American Dream Conference 2011
Deepak Bhargava was one of the 158 speakers who addressed the Take Back the American Dream Conference 2011 . The Conference was hosted by the Institute for Policy Studies, and Democratic Socialists of America dominated Campaign for America's Future, [19]
Midwest Academy connection
The Gala Host Committee, for the December 10, 2014 Midwest Academy Awards Ceremony included Deepak Bhargava — Executive Director, Center for Community Change .[20]
Race Will Win the Race conference

PowerPAC+ June 25, 2014;
Today's the day! #WINin2014 Race Will Win the Race conference is finally here. Check out what's to come and join us on Twitter @PowerPAC_Plus using #WINin2014. — with Stacey Abrams, Cory Booker, Trey Martinez Fischer, Representative Marcia Fudge and Mark Takano in Washington, District of Columbia.[21]
Plus speakers Aimee Allison, Deepak Bhargava, Susan Sandler, Steve Phillips, Ingrid Nava, Andy Wong, Subodh Chandra, Linda Darling-Hammond, Alida Garcia, Julie Martinez Ortega.
"Progressive Agenda"
Signers of New York City Mayor Bill de Blasio's May 12, 2015 launched The Progressive Agenda to Combat Income Inequality included Deepak Bhargava, Center for Community Change.[22]
2009 15th Anniversary Fundraiser "Rooted in Movement"
In 2009, NAKASEC held a fundraiser called "Rooted in Movement."[23],[24]
Standing Up for Justice Awardees
DREAM In Action Youth Awardees
Host Committee
References